The Student Nurse Forum
|
home




Win Our Web Award


This page was last updated on 15-Jun-02

The Nursing Leadership Award:
Win Our Web Award


ission Statement:
The foundation and continued growth of the nursing profession is vitally dependent on the leadership and participation of its members. The active involvement of all nursing professionals will serve to unite and strengthen the field. The Student Nurse Forum wants to recognize those individuals and groups whose leadership has served to enhance the profession of nursing, and who have chosen to utilize the web to further promote their vision. With this in mind, we created The Nursing Leadership Award.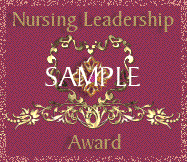 Award Philosophy
What kinds of sites are we looking for? Award-winning sites will clearly seek to enhance or support the nursing profession and those called to it. Nursing Leadership Award sites may include one or more of the following types of content:

Mentoring programs

Educational content or programs related to nursing practice

Information exchange

Nursing communities (i.e. professional associations, message boards, etc.)

Political activism

Professional development

Well-defined scholarship and grant programs

Technology relevant to the field that serves to standardize and streamline processes, or improve the quality of service delivered

Support products and systems related to nursing education and/or practice

Promotion of a positive image of the field
Additionally, sites should promote unity and harmony among nursing professionals, rather than encouraging further divisions. Sites should evidence a clear vision for the continued development and growth of the profession and its members. Commitment to the field is important, as is the desire to make a positive contribution to nursing.
General Information
This web award is open to both commercial and non-commercial sites geared towards nursing. Professional webmasters and novices alike are invited to apply. Primary weight in the judging is given to website purpose and content, which has priority over mastery of design and graphics. User-friendliness is a must, and the site should seek to do more than serve as a bio of the owner (the site must have a defined purpose related to nursing).
Websites with content that is adult in nature, is discriminatory, or is derogatory will be automatically disqualified. Membership should not be required to view site content. Additionally, sites that are irrelevant to nursing will not be eligible. Site developers must be at least 14 years old.
To win the award, a site must achieve a combined total of 85 points or more (for specific judging criteria, see
Award Criteria
). Award winners will be featured on our website (see
Award Winners
). To apply for this award, please fill out the
Award Application
after reviewing the criteria. Sites are typically judged within 2 weeks of application. Winners will be notified by e-mail. Non-winners will not be notified, nor will critiques be given unless specifically asked for (dependent on available time to do so). All judging decisions are final. Applicants who do not win the award are invited to reapply after 3 months - it may be helpful during this time to review the judging criteria and "self-test" your site.
Special thanks to
Awards4u
, for creating our award image!

Advertisements: